Certified Personal Trainer & Fitness Instructor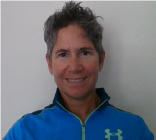 Phone: (239) 259-1541

Lea was born and raised in Buffalo, New York. She participated in collegiate tennis, volleyball, and competitive bodybuilding. After leaving for the Florida sunshine, windsurfing and wakeboarding became her favorite new interests.

Professionally, after relocating she gained initial experience as a Personal Trainer at the Fountainebleau Hilton Resort on Miami Beach and later expanded her knowledge of health/fitness as an Exercise Physiologist at The Rader Institute/Eating Disorder treatment center for 6 years. While very interesting, the subsequent exposure to rehabilitation in clinical settings with the University of Miami was the most rewarding and long-lasting experience of her career. Understanding pain/dysfunction and assisting in the return to optimal function continues to be a lifelong passion and challenge.

Now a full-time resident of Marco Island Lea is pleased to offer her services at Island Country Club. Areas of specialization include training post-injury/rehabilitation, Fibromyalgia & Myofascial Pain, osteoporosis prevention, assisted stretching/self-massage techniques, and functional training to improve life quality. With over 30 years of diverse experience in the fitness/wellness field, as well as a Masters Degree in Health Promotion I look forward to assisting you in your quest for optimal health.